 Dan's Charity Bike Ride
---
DG Supplyline manager Daniel Rosewell will be putting on his cycling shorts this summer when he takes part in the London to Paris bike ride. Apart from finding an excuse to wear Lycra, his other reason is to raise funds for a charity very close to Dan's heart.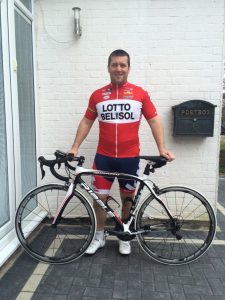 In 2014 Dan's sister was diagnosed with a neurological condition called NMDA Encephalitis, an illness that cause inflammation of the brain. The wonderful Encephalitis Society is an independent charity that does not receive any funding from the government. Hopefully Dan's efforts in June are going to make a big difference to sufferers, families and carers affected by this disease.
If you would like to show your support and make a donation, you can do so at the Daniel Rosewell Just Giving page. All proceeds will go towards Dan's goal of raising £10K. If you make a donation, please remember to tick the Gift Aid box so that the charity doesn't have to pay tax on your gift.
That has got to be worth the cost of a couple of beers???
Dan rides off on Wednesday 22nd July 2015
Day 1 – London to Calais – 85 miles
Day 2 – Calais to Amiens – 95 miles
Day 3 – Amiens to Creil – 60 miles
Day 4 – Creil to Paris – 50 miles
If you use Twitter you'll be able to follow his progress at twitter.com/danielrosewell